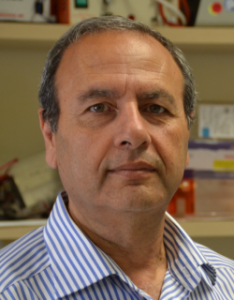 Department of Human Biology
Email: ffares@univ.haifa.ac.il
Structure-Function studies of glycoprotein hormones using site-directed mutagenesis and gene transfer. These studies led us to the development of a novel strategy for developing long acting recombinant proteins that used in clinics; ELONVA (long-acting FSH is used in treatment of infertility and IVF), Somatrogon, (long-acting human growth hormone) and Long-acting Erythropoietin. Base on this technology I found a start-up company for "designing long-acting recombinant proteins", PROLOR Biotechnology. Moreover, using these techniques we succeeded to develop antagonists for FSH and TSH.
Identifying apoptotic factors and understanding their molecular mechanism of action. Based on the results of our laboratory, I am the founder of CanCurX, a start-up company at University of Haifa for developing new strategies for treatment of cancer. We already identify a single small molecule from mushroom extract that induced apoptosis in human pancreatic, prostate, colorectal, breast and head and neck cancer.
Epigenetic profile of head and neck cancer. In our laboratory, we identified miRNA that found to be methylated in human cancer cells and in human cancer biopsies. Cloning of the miRNA and transfection into human cancer cells resulted in induction of apoptosis. Moreover, using animal model, we found that treatment with viral plasmid carry the miRNA, resulted in a dramatic inhibition of tumor development and prevents cell proliferation and induced apoptosis.
Identifying gene alterations that responsible for development of human genetic diseases and familial cancer. This will lead to expand the genetic counselling strategy of members from our population.